2023 Scholarship Application
Actions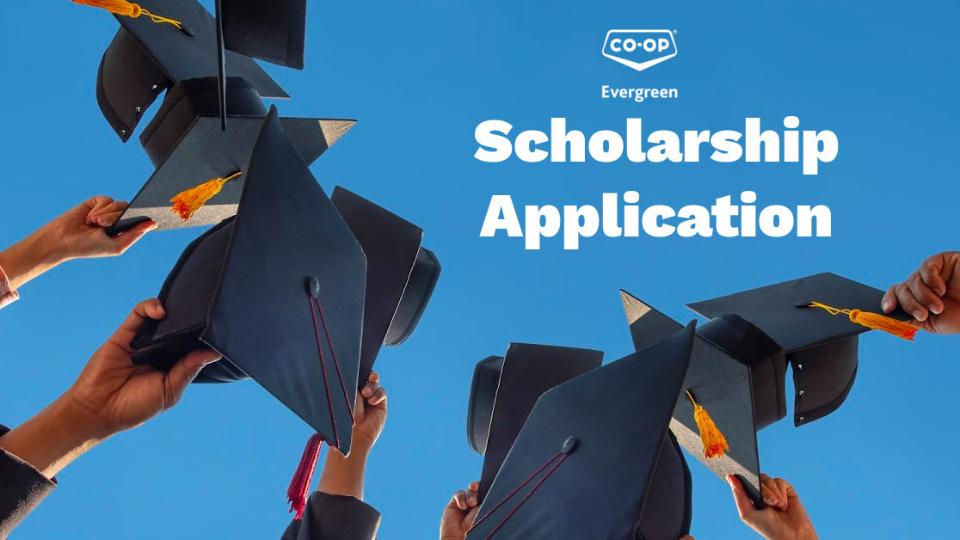 2023 Scholarship Application
March 22, 2023
Evergreen Co-op Scholarships are created to assist the Evergreen Co-op staff members and their families, as well as Evergreen Co-op members, to further their education.
Scholarship Value:
A fifteen hundred dollar ($1,500.00) scholarship will be awarded to individuals throughout the Evergreen Co-op trading area. The number of recipients will be determined annually by the Scholarship Committee of the Evergreen Board of Directors.
Application Forms:
The Evergreen Co-op Scholarship application forms may be obtained from the Evergreen Co-op Administration Offices located at the Rimbey Shopping Centre and the Rocky Mountain House Shopping Centre. They are also available online, at the bottom of this page.
Application Process & Submission Date:
Applicants will need to submit a completed application and provide proof of acceptance and enrollment into the program which the scholarship is being applied for, prior to being awarded the Evergreen Co-op Scholarship.
A completed application form and all documentation must be returned to the Administration Office from which the application was received or emailed to scholarship@evergreen.crs on/or before May 31st, 2023.
Eligibility:
Applicants must be one of the following:
1. An Evergreen Co-op staff member and/or immediate family member. (i.e. spouse or child)
2. A Member of the Evergreen Co-op and/or immediate family member.
Applicants must indicate their Co-op involvement as well as their involvement in community activities, volunteer activities, and other extra-curricular interests.
Applicants must complete an application form, and provide a minimum of two letters of reference, 1 Community Reference and 1 Educational Reference.
Selection Process:
The Scholarship Committee of the Evergreen Board of Directors will review the applications received and present its recommendations to the Board of Directors at the June Board Meeting for the final decision.
In making its decision on the successful applicants the Committee will consider the following items:
1. Co-op experience;
2. Community involvement (volunteer work, groups, etc.);
3. Work experience;
4. Program of study.
All applicants will be notified, regardless of the outcome of their application, shortly following the June Board meeting.
The Committee may arrange an official presentation of the Awards at which time photos will be taken so that the Co-op can publicly announce the winners.
If the successful applicant is a graduating student(s), the scholarship winners may be recognized at a function at the student's school.
Discover more: