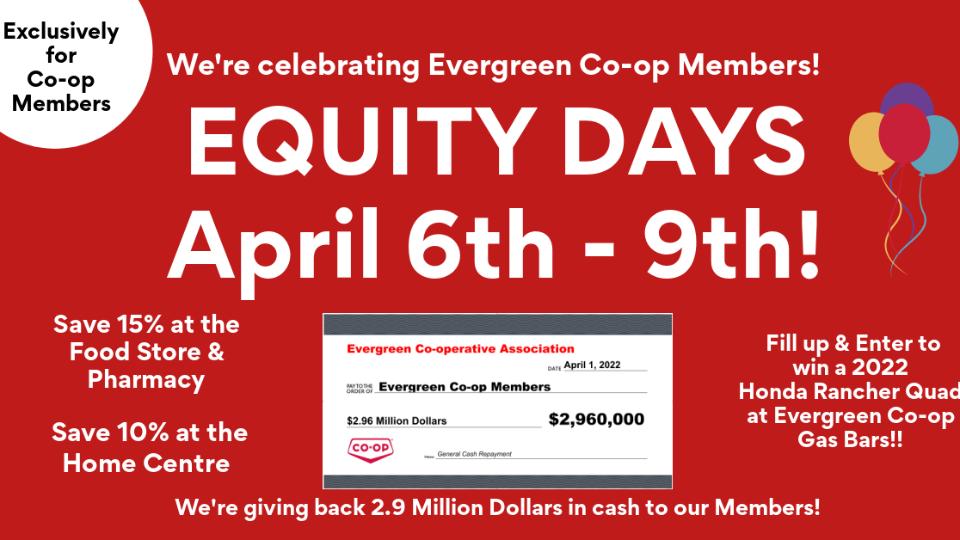 Equity Days 2022
April 4, 2022
The cheques are in the mail! Evergreen Co-op is giving back 2.9 Million Dollars to members this year and we're celebrating with Equity Days from Wednesday, April 6th to Saturday, April 9th!
Members will save 15% off Food Store & Pharmacy & 10% off Home Centre and when you fill up at Evergreen Co-op Gas Bars, you can enter to win a new 2022 Honda Quad! Evergreen Co-op has scheduled a private showing for Sonic at Rocky Cinemas on Friday, April 8th at 5pm and we have also exclusively reserved Striker's Bowling Alley in Rimbey on Saturday, April 9th from 3pm until 9pm.
Tickets to the above events will be available to all Evergreen Co-op members. Tickets for the movie will be available in the Rocky Shopping Centre starting Wednesday, April 6th at 9am. Tickets for bowling will be available in the Rimbey Home Centre starting on Wednesday, April 6th at 9am. First come, first serve for both events.

If you aren't a member and would like to sign up, please visit our website at www.evergreenco-op.crs.