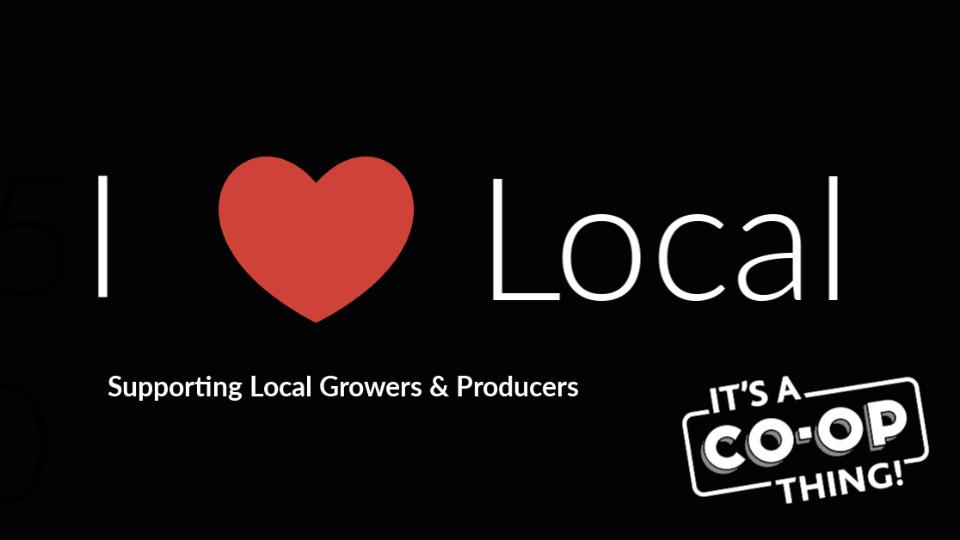 Local Products & Producers
June 29, 2020
Evergreen Co-op carries a large selection of Canadian Products and many of them are from local Alberta producers!


Here are just a few of the companies we support:
The Cucumber Man
Since 1968, Rick Wagenaar (The Cucumber Man) has been providing Albertan's with locally grown, quality fresh vegetables from Redcliff, Alberta. Learn more about The Cucumber Man here.
Pik N Pak

Established in 1987 in Lacombe, Alberta, a few local greenhouse owners got together to sell their fresh locally grown vegetables and Pik N Pak was formed!
Sunny Boy
This story began on Alberta Prairies in Camrose, AB in 1926, when two brothers ~ Walter and Edgar Byers moved to Camrose from Nova Scotia. They started Byers Flour Mills and started producing Sunny Boy products.
Coyote Pancake & Waffle Mix
The RockPort Hutterite Colony in Mcgrath, Alberta started producing Coyote Pancake Mix in 1918. This delicious mix is made from pure, natural whole wheat flour.

Byblos Bakery
It all started in 1975 with handmade pitas. Today, Byblos Bakery in Calgary, Alberta produces & distributes quality pitas, bagels and tortillas all across Canada and the United States.
The Little Potato Company
Jacob van der Schaaf and his daughter Angela Santiago started the The Little Potato Company by growing their first acre of Creamer potatoes by hand, in 1996 in Edmonton, Alberta. This family owned company distributes highly nutritious & naturally delicious, small specialty potatoes across Canada & the United States.

Bow Valley BBQ

Co-op Gold Barbecue Sauces and Salad Dressing are the flavourful product of a partnership with Bow Valley BBQ in Canmore, AB. Jamie Ayles started working in the restaurant industry when he was 12 and became a decorated chef by 20. With his skill, Jamie travelled the globe and brought delicious, high –quality food to people all over the world. But what he really wanted was to create something for himself so he left the restaurant industry behind to pursue his dream of running a sauce company. Read more to find out just how much flavor you can fit in one bottle of Co-op Gold Barbecue Sauce!

Drizzle
This sweet story started in 2014, when Aja Horsley (Queen Bee) discovered a huge gap in the RAW honey industry and developed the Edmonton honey company Drizzle. She also had help from a lot of busy bees!
Happy Planet
Randal Ius has been passionate about making food & juice that make you feel good since he co-founded Happy Planet in 1994 in Burnaby, BC. Happy Planet uses only the freshest, natural & highest quality ingredients they can find.
Cloud 9
Cloud 9 began with a single purpose – to allow Celiacs and those with special dietary needs the ability to use any recipe requiring regular flour, and to substitute our Cloud 9's All-Purpose Baking Mix cup for cup with the same great results. Cloud 9 is the creator of Co-op Gold Pure Gluten Free Pancake & Waffle mix, Cookie mix & Brownie mix.