Rimbey Gas Bar Under Renovations
Actions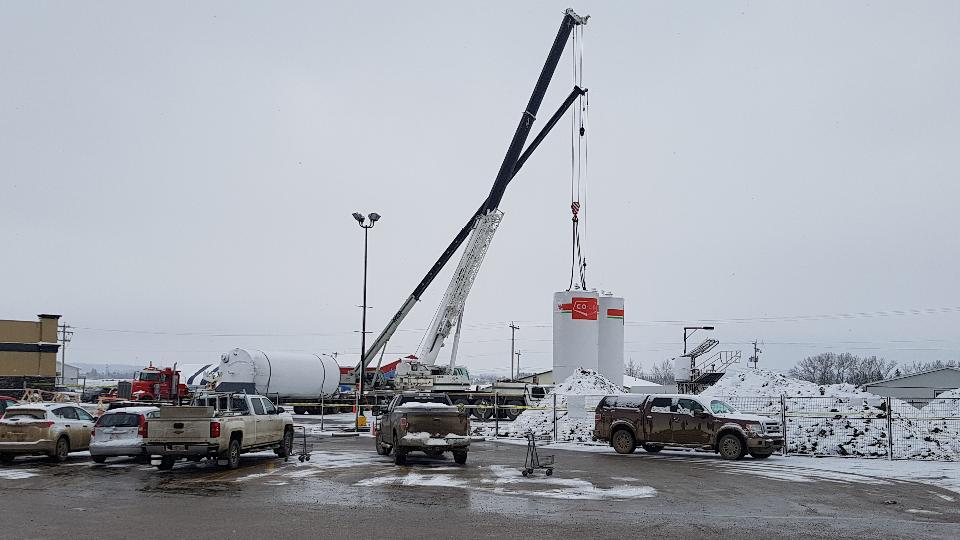 Rimbey Gas Bar Under Renovations
September 24, 2018
We are pleased to announce that on September 24, 2018, the Evergreen Co-op started the decommissioning of the old Co-op bulk plant in Rimbey. This was a legislated requirement as the existing containment dyke at the site no longer met environmental regulations.

As a result, we will making a $1.4 million dollar investment into the community of Rimbey by converting the existing cardlock/bulk plant into a 4-lane, 4-pump Gas Bar. Furthermore, we are also renovating the old Kiosk which will include; new fixtures, our new Co-op coffee program, and a new F'real milkshake dispenser.

The Gas Bar will have the Pay-at-the-Pump technology for all of our members who prefer to gas and go however, Full Service will still be available to everyone as well. Two 100,000 litre underground tanks will be installed as well as four new Dresser Wayne Ovation 2 – 4 product pumps offering clear diesel, clear gasoline, midgrade and premium gasoline. A 1,000 USWG propane bullet will also be installed, at this location, to refill propane bottles as well as dispense auto propane.

Our tentative completion date is December 18, 2018 provided Mother Nature is kind to us. If you wish to charge fuel at the new gas bar or use the new cardlock on the north side of Rimbey, please contact our administration department at (403)843-2258 in Rimbey, or (403)845-2841 in Rocky Mountain House and one of our amazing staff members will assist you through the credit application process.

Discover more: